I cannot tell you how shooked I was when I got the invitation to the Urban Decay Born To Run Launch Party. As mentioned in the Video I'm a huge Urban Decay Fan since years. The first 2 Naked Palette I bought in Paris at a Sephora Store as Urban Decay was not available in Austria. Now you can get there products in different stores or online.
Let's talk about the Born To Run Palette:
The Palette has 21 beautiful mats and shimmer eyeshadows. That means you can create a ton of different looks with it. The colours all swatch beautifully and as all Urban Decay shadows you can blend them easily. A huge plus for me is the super big mirror. I love when I'm able to see myself while using a palette. Especially if you're traveling this palette is a must! You can create looks for everyday or special occasions and that's what I love about it. The colours range from natural tones, beautiful pink/purples to a super pigment teal.
The Eyeshadow Colours:
BREAKAWAY (warm ivory shimmer) – STRANDED (pale rose gold with tonal micro-shimmer) – BLAZE (light metallic peach with pink shift) – WEEKENDER (light neutral beige matte) – STILL SHOT (bright peach) – RIFF (brown-nude matte with floating micro-sparkle) – GOOD AS GONE (deep brown with iridescent micro-shimmer) -HELL RIDE (deep fuchsia matte) – BAJA (burnt orange matte) – ACCELERATE (reddish copper metallic) – GUILT TRIP (smoky purple shimmer) – IGNITE (rose gold metallic) – SMOG (deep coppery bronze shimmer) – WANDERLUST (forest green with gold micro-shimmer) – WILDHEART (bright fuchsia) – PUNK (red-brown matte) – DOUBLE LIFE (metallic rust) – JET (black with deep shimmering purple shift) – DRIFT (charcoal satin with tonal micro-sparkle) – RADIO (deep emerald satin) – BIG SKY (frosted green shimmer with iridescent micro-sparkle)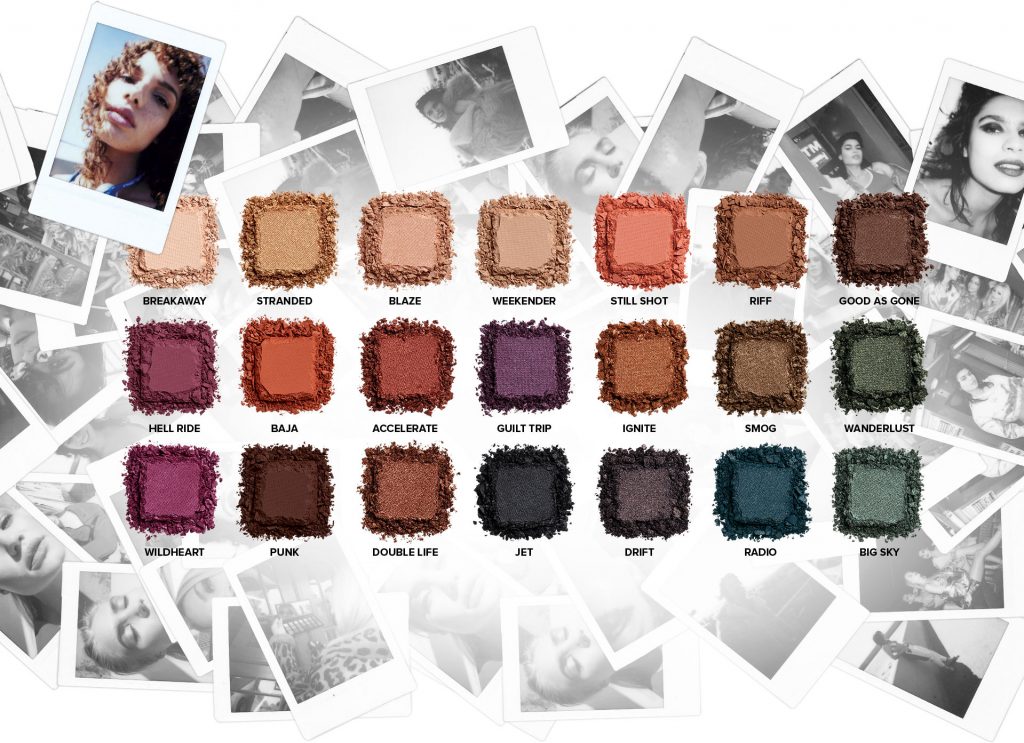 Mini Tutorial with the Born To Run Palette
Here I'm using the Eyeshadow Colours Blaze, Weekender, Still Shot, Hell Ride, Baja, Radio & Big Sky.
PRO TIPS
Mist your brush with All Nighter Makeup Setting Spray before applying any Eyeshadow shade to create long-lasting, extra-pigmented effects.
Define the crease using any matte shade to add a smooth transition from your base eye shade. • The light shimmery shades double up as highlighters.
Using your finger, tap a small amount of any shifty shadow on top of your Vice Lipstick look to create extra dimension.
The Born To Run Collection
The Collection has 1 eyeshadow palette, three  lipsticks, three eye-pencils and a makeup setting spray.

Palette Review with Swatches