Kiehl's is an American cosmetics brand retailer that specializes in premium skin, hair, and body care products. It started as a single pharmacy in Manhattan at Third Avenue and East 13th Street in 1851. Kiehl's was purchased by the L'Oréal Group in 2000 and currently has more than 250 retail stores worldwide.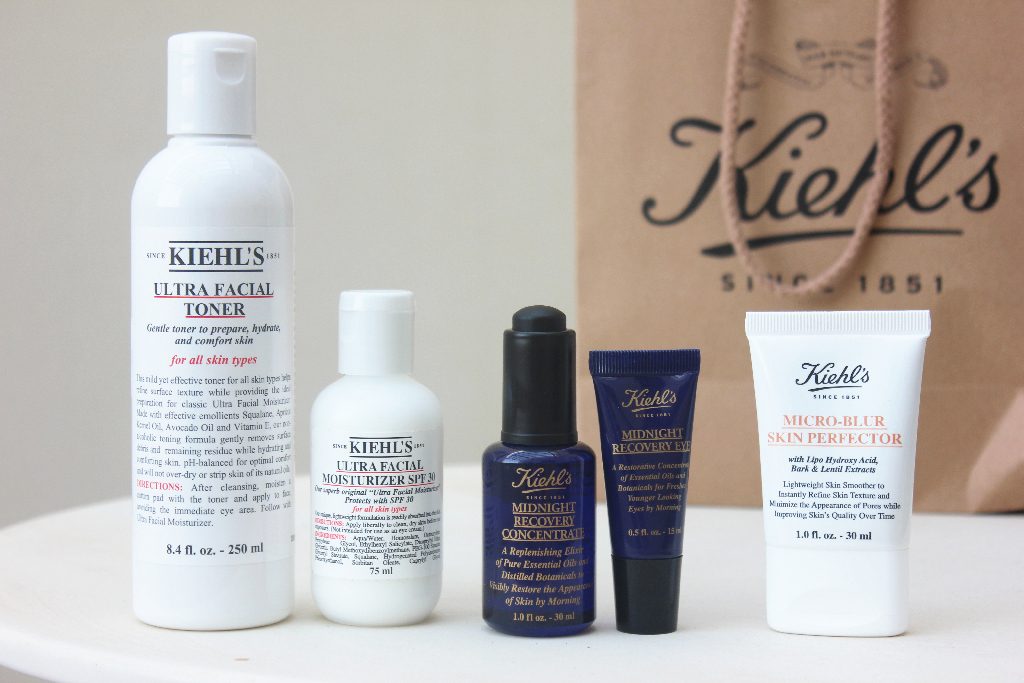 The brand's mascot is a skeleton named "Mr. Bones."
Aaron Morse inherited the company in the 1950s. He saw the East Village flagship as a community gathering place — like a Starbucks, but with skin-care instead of coffee. So he worked to make the place about more than just skin-care, introducing both a stack of biology books and Mr. Bones, a human skeleton, as a way to encourage learning and interest kids. Now, there's a Mr. Bones in every Kiehl's store.
In over 1000 points of sale
Kiehl's has largely stuck to its principles. It continues to bypass traditional advertising methods to reach new customers, preferring to rely on word of mouth, samples and its reputation as a leading skincare brand. Men still make up roughly one-third of customers globally. Kiehl's also tries to make the stores look identical worldwide. No matter where you are, you will always find a Kiehl's Store that will look the same like the one you know from home.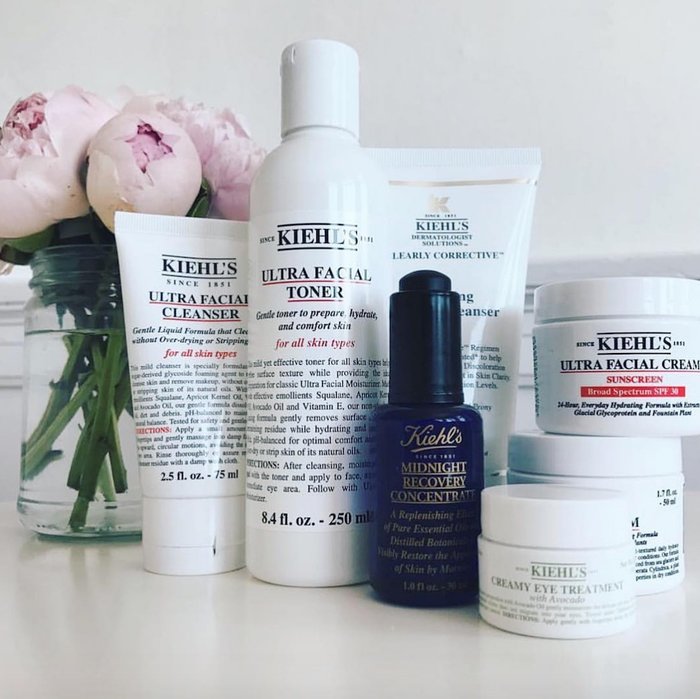 Get you skin analyzed and get the right products for your skin
That's what I did a few day ago – went to the store and got my skin analyzed. It was super easy and pretty fast, didn't even had to take of my makeup – which I was super happy about. After the analyzing the shop assistant showed me every products that would suit my skin and help me to make it even better. It was super interesting to hear everything about my skin and about the products. What I also loved was that during the consultation I was able to ask all the question and didn't felt the pressure to buy anything – what I really liked! I also got all the product listed so that I know which ones suits my skin the best. So if you ever wanted to know how your skin is doing and what the right products are – then you should really stop buy a Kiehl's store and get your skin analyzed.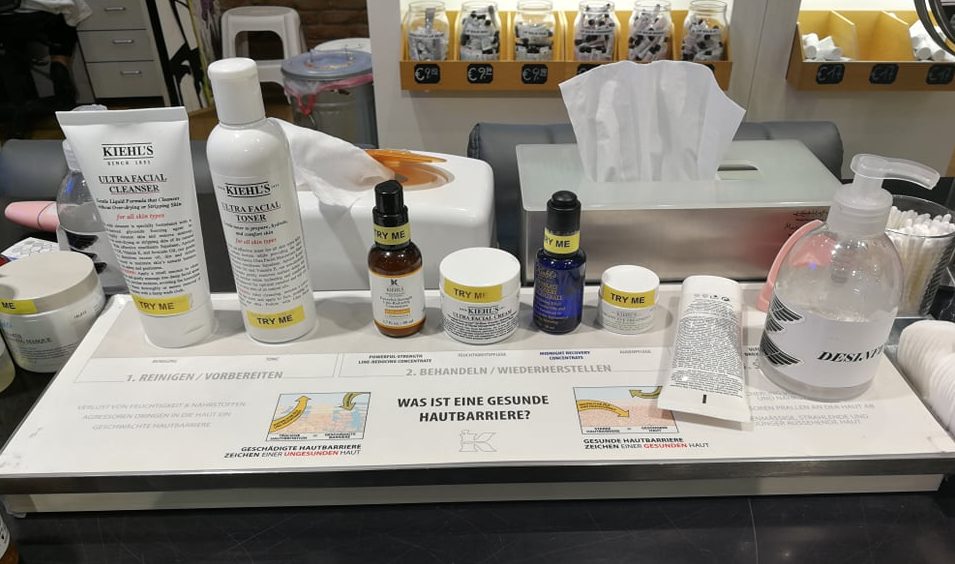 If you don't like it – bring it back and change it
Kiehl's really tries to make their costumers happy. If you buy a product and end up no liking it, you can bring it back (after 28 days) and get it exchanged with a new product that might suit you better. I really love that kind of philosophy! Sometimes we end up buying a product but while using it we might notice that it's not what our skin might need.
The products I'm currently testing
Calendula & Aloe Soothing Hydration Mask
This lightweight gel mask, formulated with hand-picked Calendula flower petals and Aloe Vera, bursts into a refreshing surge of cooling hydration upon application to instantly achieve hydrated and soothed skin. With continued use, skin is revitalized for a healthy-looking complexion.
KEY INGREDIENTS
Calendula: Native to the Mediterranean, Calendula Extract and Calendula Petals are known for their skin soothing properties and are commonly used in skincare products for oily skin types. For many centuries, Calendula has been highly regarded as a medicinal herb in both Ayurvedic and traditional Chinese medicine.
Aloe: Widely used for centuries in traditional and herbal medicine for its skin soothing benefits. It's also known to possess hydrating properties and helps increase the water content in skin. Our Aloe is sourced from the leaf of the Aloe Vera plant growing in the Dominican Republic.
Midnight Recovery Concentrate
This top-rated face serum is formulated with ingredients like Lavender Essential Oil and Evening Primrose Oil to replenish skin by morning.
Restores overnight to help skin repair itself from daily aggressors
Improves firmness and elasticity for replenished, radiant skin
Formulated with a blend of essential oils and distilled botanicals including Lavender Essential Oil, Evening Primrose Oil and Squalane
A customer favorite
KEY INGREDIENTS
Evening Primrose Oil: Evening Primrose Oil is extracted from the ripe seeds of the Evening Primrose, a flowering plant that blooms every other year. This oil contains essential fatty acids that the body cannot produce on its own that help to repair the skin barrier while maintaining hydration and elasticity.
Lavender Oil: Lavender Essential Oil helps soothe inflamed or irritated skin while helping reduce blotchy skin for a more even tone. This calming oil helps to create brighter, healthier-looking skin.
Squalane: A signature Kiehl's ingredient, Squalane is a highly-refined botanical lipid derived from olives. With an exceptional affinity to skin, Squalane absorbs easily and is known to help replenish skin's barrier keeping it soft, supple and moisturized
Calendula Herbal Extract Alcohol-Free Toner
This facial toner for oily skin and normal skin has been trusted by Kiehl's customers since the 1960s. Hand-inserted Calendula flower petals work with other gentle ingredients like Great Burdock Root to create a cleansing and soothing toner for skin.
Gently cleanses and refreshes facial skin without harsh synthetic drying agents
Soothes and improves to create a more balanced, even skin tone
Formulated with Calendula, Burdock Root and Allantoin
Alcohol-free
For normal to oily skin types, including sensitive skin
A customer favorite
KEY INGREDIENTS
Allantoin: Allantoin is a compound found in the root of the comfrey plant, a hairy perennial Eurasian herb long used in herbal medicine. Known to be a bacteria inhibitor, Allantoin can soothe and reduce skin inflammation in various product formulations.
Calendula: Native to the Mediterranean, Calendula Extract and Calendula Petals are known for their skin soothing properties and are commonly used in skincare products for oily skin types. For many centuries, Calendula has been highly regarded as a medicinal herb in both Ayurvedic and traditional Chinese medicine.
Burdock Root: Great Burdock Root is a gentle, natural ingredient known for centuries to help improve dry skin.
Hydro-Plumping Re-Texturizing Serum Concentrate
Plump and moisturize skin for a smoother appearance with our hydrating serum. This formula provides intense hydration to help plump skin and reduce the appearance of fine lines. Infused with 15% Glycerin and Shiso Leaf Extract, our hydrating serum helps revive dull skin for a smooth, healthy-looking appearance.
Intensively hydrates to help improve the appearance of tired-looking or dull skin that can be caused by age-related dehydration
Helps plump skin to smooth the appearance of fine lines and uneven skin texture
Formulated with 15% plant-based Glycerin and Shiso Leaf Extract
Demonstrated to help correct the signs of age-related dehydration in a clinical study
For all skin types
KEY INGREDIENTS
Glycerin: Glycerin, a well-known skincare ingredient, is highly compatible and naturally occurring within skin. Within our formulas, it is a powerful humectant known to help retain moisture and soften skin.
Get 20% off your orders at Douglas
I'm super happy that I was able to get something for you guys. If you are interested in trying out some products or if you just want to stuck up than now is the best time! Just use my code bsandrine at the checkout and you will automatically get 20% off you order – how cool is that? Even though I already have some products I ended up ordering 3 more products – hihi.
The products I ordered
Creamy Eye Treatment with Avocado
This creamy eye treatment offers quick burst hydration effective for all skin types.
Gently moisturizes the delicate under-eye area
Smoothes skin with a uniquely-concentrated formula that won't migrate under makeup
Incorporates highly-effective ingredients including Beta-Carotene, Shea Butter and Avocado Oil for skin hydration
Ophthalmologist- and dermatologist-tested
For all skin types, including sensitive skin
A top-rated eye cream beloved by our customers
Calendula Deep Cleansing Foaming Face Wash
Cleanse and refresh skin with our efficacious foaming cleanser. Infused with Calendula and Glycerin, this creamy gel formula activates with water to create a dense foam. Cleanse away impurities and dirt with this effective, yet gentle cleanser for oily skin and normal skin.
Gently lifts away impurities, dirt and oil
Deeply cleanses skin without over drying or stripping
Help skin look and feel instantly refreshed and revitalized
Formulated with Calendula Extract and Glycerin
For normal skin and oily skin
Ultra Facial Oil-Free Lotion
Glow days at Kiehl's
On the 15th or 16th of June you will get a "Glow-on-the-go" mini-treatment in every Kiehl's store in austria! So if you are still not sure what kind of products you should try out or if you just want to treat yourself and definitely stop buy!
Sources
https://en.wikipedia.org/wiki/Kiehl%27s
What you might also like