---
Be creative
I was invited to an ArtNight and I had such an amazingly, creative and fun night! I chose the theme landscape and to be honest I'm pretty happy with what came out – haha!
---
ArtNight – Painting: Landscape
Ordering my tickets I already was super excited because I love it whenever I get the chance to be creative. I went to an ArtNight in Vienna and it took place in a nice little restaurant. We got there a bit early and had dinner first. After the delicious food we got our canvases, brushes and colours. At every ArtNight there is an artist that will show or explain you how to create your own peace of art. They have super cool paintings you can choose from. With the right instructions of the artist you will recreate a piece of art! I never thought it would be that ease! I really had a super fun evening!
If you ever wanted the chase to get creative – this is it! What I really loved is, event though we all had the same theme we all got a different paintings.
– Art has no rules –
---
---
Art for Valentines day
If you are still looking for a cool, fun and unique gift that you and your significant other wont forget, than you should get the valentines gift box! You will get your own unique box that was painted just for you included 2 ArtNight tickets!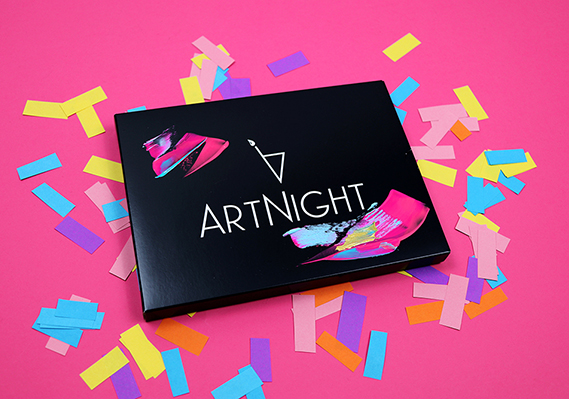 ---
Way more fun with a Code
I was super happy when I got the invitation to an ArtNight but I was even more happy when they told me that I could get you guys a code! Just choose the event/painting you want to go to and before checking out enter the code – bsandrine – and you will get 6€ off !
*For my friends located in Germany & Austria